Blocked Drain Cleaning in Johannesburg
Blocked or heavily clogged drains can be a nuisance at the best of times and can cause flooding, bad smells and potential damage to your internal and external pipework. Usually, drains are blocked as the result of household or commercial waste building up in the pipes and sources mainly from grease, bacteria, food waste, hair or soap build up being consistently washed down your drains and gathering in the pipework or u-bend. Commonly, we deal with blocked sinks, blocked showers and baths and clogged exterior drains.

We utilise many different methods of Drain Cleaning and have several ways in which to flush the pipes to remove the deposits and waste build up. We use a mixture of chemicals designed to break down the deposits causing the blockage and then use high pressured hot water to fully clean and sterilise the infected pipes. The chemicals used in our cleaning process are highly corrosive so great care must be taken and should only be used as directed and by a qualified professional.
If you find yourself in the situation whereby you are unable to successfully clear the blockage yourself using off the shelf products, it likely that your going to need some heavy duty cleaning power! We have the tools and knowledge needed to get your blocked drains Johannesburg sorted in time. Fully mobile service and direct to your door the same day
Our Service – The process involved 
We come fully prepared to tackle any blocked or clogged drains whether it be at home, at your office or at a commercial premises. We carry all the latest tools and diagnostic equipment to successfully offer a cost effective solution to your drainage problems.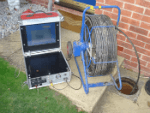 Firstly, we will run a diagnostic of the problem in order to find out what is causing the block and can utilise our CCTV drain diagnostics for this very reason. In most cases, we can expertly remove the blockage in the pipe by using a chemical process, high pressure water jets or industrial plungers but in more extreme cases, it may be necessary to remove and replace the infected pipes. We also use electro-mechanical cleaning method to remove blockages in smaller pipes such as the ones found in toilets and sinks within your kitchen or bathroom. Whatever the case and no matter how big or small the job may seem, our expert team of plumbers are fully trained and qualified to deal with your issues.
Its always wise to consult a professional or plumber when dealing with any blocked drain. Avoid having costly repairs to your pipes by trying to solve the issue yourself. If your sink is blocked, your drains are overflowing or your toilet has become blocked, call the experts in Drain Unblocking in Johannesburg today on 010 500 1968 today.